Promoting infection control through gamification
A multinational pharmaceutical company aimed to promote antimicrobial stewardship and educate frontline healthcare providers on the best practices in infection control. The company's representatives were in regular contact with senior doctors and consultants in various hospitals and, based on their rapport, opted for a gamified, competitive learning approach.

Challenges
The company needed a way to help hospitals incorporate the right infection control practices and instill an emphasis on antimicrobial stewardship in their registrars and nurses.
Solution
Based on a study of the key personality traits of the doctors and nurses, we designed a game that accounted for their different approaches to solving problems and adhering to protocol.

Players had to choose between guiding a character to follow the best practices or allowing a lapse in protocol. Participation in the game enabled HCPs to understand and engage with the consequences of their choices.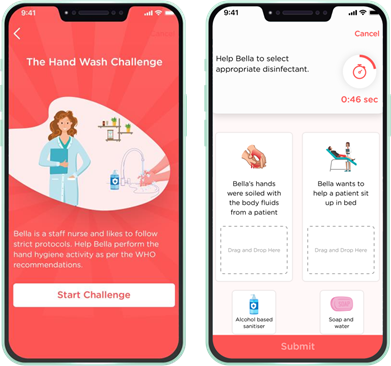 Outcome
Immersive learning
through healthy competition

Better alignment with best practices
after staff members played the game
Boosted brand recall


for the company and improved goodwill due to its innovative approach to education
Ethosh's scope of work
Conceptualization
Design strategy
Unique gamification
User experience
Ethosh blends the real and the virtual to communicate challenging concepts. From life sciences to the products of modern manufacturing. From strategy to execution. We use the latest digital tools and platforms to help you communicate efficiently and effectively: to market, to instruct and to inform.
Ethosh works with global life sciences and manufacturing companies and has its offices in North America, Europe and India.
Do you have any queries?
Contact us