Increasing productivity with knowledge when it's needed most
The training content for an MR Injector was only available online, so if users encountered an error or had to troubleshoot an issue, they had to consult a computer for information. This extra step resulted in increased downtime and less productivity for HCPs. The MedTech company wished to provide better, more convenient support for customers using a readily available, offline digital platform.
Challenges
Troubleshooting resources were not immediately available to CT/MRI technicians, causing a great number of support calls and a good deal of lost time while accessing online resources. These compounded issues led to less time with patients.
Solution
We developed an app for iOS, Android, and Windows that hosts visual, interactive content offline, allowing HCPs to access the resources on the go and without internet.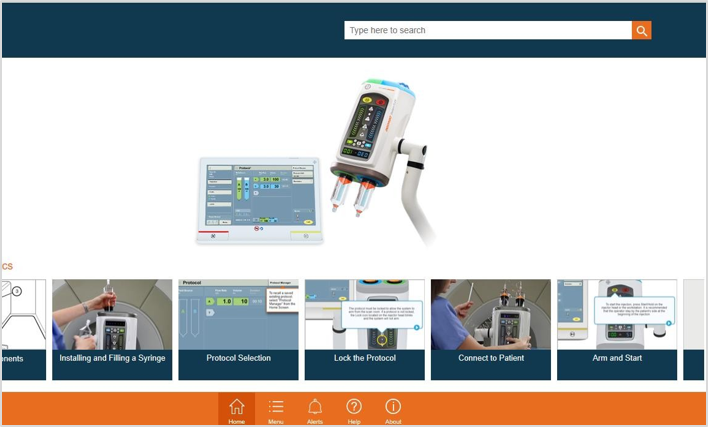 Outcome
Quick resolution
of issues through instructional options


Decreased downtime


during the troubleshooting and scanning procedure

Better patient experience
due to seamless scanning process

Ethosh's scope of work
Concept design
User experience design
Instructional design thinking
Technology implementation
Ethosh blends the real and the virtual to communicate challenging concepts. From life sciences to the products of modern manufacturing. From strategy to execution. We use the latest digital tools and platforms to help you communicate efficiently and effectively: to market, to instruct and to inform.
Ethosh works with global life sciences and manufacturing companies and has its offices in North America, Europe and India.
Do you have any queries?
Contact us