Increasing market awareness to generate leads
There is a serious lack of information about common illnesses, warning signs, and potential treatments in women's healthcare. These shortcomings lead to missed opportunities for early diagnosis and treatment, which can be both dangerous and quite costly. Our client wanted to create awareness among women and healthcare professionals about common women's health issues at various life stages, and the diagnostic solutions available to aid in early detection.

Challenges
A lack of awareness exists among women across all age groups concerning health issues. Our client wanted to increase market awareness of their products and solutions that assist in early diagnosis of these issues, saving women a substantial amount of money and time, and potentially saving their lives.
Solution
Our team at Ethosh developed a comprehensive digital campaign using emails, landing pages, and other informational assets. The campaign focuses on creating awareness of women's health issues as well as the solutions that enable early diagnoses.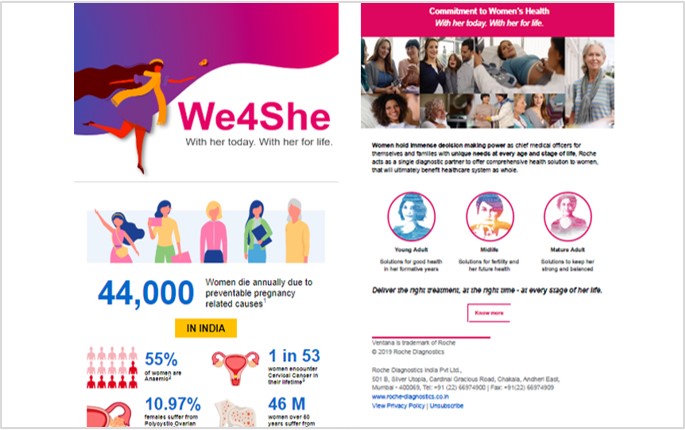 Outcome
Increased awareness
in women of all age groups about the health issues that could potentially affect them

Lead generation
for labs that perform or specialize in diagnostic tests for women

Ethosh's scope of work
Email and social ad creation
Landing page development
Infographic design
Ethosh blends the real and the virtual to communicate challenging concepts. From life sciences to the products of modern manufacturing. From strategy to execution. We use the latest digital tools and platforms to help you communicate efficiently and effectively: to market, to instruct and to inform.
Ethosh works with global life sciences and manufacturing companies and has its offices in North America, Europe and India.
Do you have any queries?
Contact us