Customer experience transformation
Published by
Ethosh
on Feb 25, 2022.
Client:

Biotech instrument & solution manufacturer

Revenue:

$5B+

HQ:

USA

Target Geography:

Global

Target Audience:

The

client's

target

audiences

(primarily

scientists,

QA/QC

analysts,

and

non-scientists decision-makers

)

started

to

shift

more

towards

digital touchpoints

across

the

entire

user

journey

even

before the

pandemic

started, however,

the

speed

of

this

shift

escalated

due

to

pandemic.




This

TA

is

primarily

curious

kind

who

may

need

more

than

just

a

piece

of

text/information

to

get

convinced

about

a

solution.
Challenges

The company has a very large TA spread across 100+ countries, a large product and solution portfolio, and web content in several hundreds of thousands of pages.
Most of it needed to be transformed to engaging and interactive customer experiences and it requires a reliable partner who can scale, bring in differentiation and deliver with agility and within budget constraints.
Campaign Goal
To transform traditional, legacy customer experiences to digital, engaging customer experiences.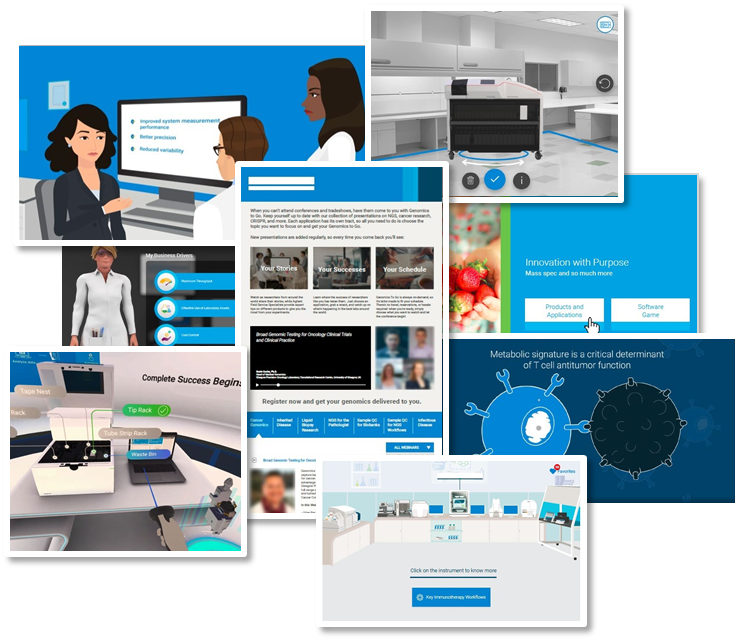 Outcome
Undertook massive transformation

close to 300+ videos, 30+ interactive web solutions

Supported global digital marketing campaigns

with hundreds of emailers and landing pages

Transformed physical demos to VR AR solutions

that not only saved more than $600K in the first year but generated 4x the number of leads

Built a 50+ member 'Center of Excellence'

dedicated to digital efforts of the company
Ethosh's scope of work
From the conceptualization of a new customer experience to design and development of a customer experience

Support the client team on the deployment of the experience through digital channels (web, mobile, VR/AR)
Ethosh blends the real and the virtual to communicate challenging concepts. From life sciences to the products of modern manufacturing. From strategy to execution. We use the latest digital tools and platforms to help you communicate efficiently and effectively: to market, to instruct and to inform.
Ethosh works with global life sciences and manufacturing companies and has its offices in North America, Europe and India.
Do you have any queries?
Contact us