Increase field sales through contactless product demos
Published by
Ethosh
on Oct 20, 2021.
Because the client provided a broad range of products and solutions for pathology labs in several geographic regions, it was difficult to schedule and perform physical demonstrations and trials. Instead, they decided to create an integrated product experience platform to showcase the full portfolio virtually, eliminating the need for in-person demos and increasing the understanding of how their products work together.


Challenges
The client's products were being marketed across several geographic regions, meaning it was not always feasible to arrange physical demos for customers. They were also finding it difficult to demonstrate how their products can be combined to form complete end-to-end workflow solutions.
Solution
Ethosh developed augmented and virtual reality experiences that showcase the complete product portfolio. The available resources now enable field sales teams to explain ease of use and product benefits through immersive and connected experiences.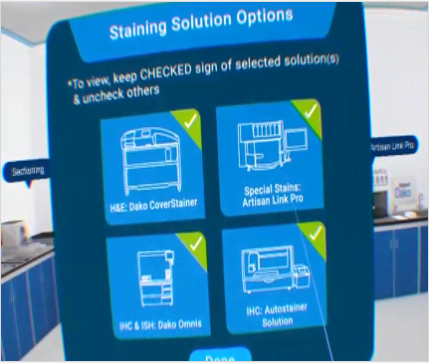 Outcome
Accelerated Sales
through realistic product experiences that speed up consideration and decision-making

Increased awareness
of the client's complete product portfolio through interactive experiences

Cost savings
by minimizing the need for physical demos

Ethosh's scope of work
Virtual Reality experience design
Augmented Reality experience design
Ethosh blends the real and the virtual to communicate challenging concepts. From life sciences to the products of modern manufacturing. From strategy to execution. We use the latest digital tools and platforms to help you communicate efficiently and effectively: to market, to instruct and to inform.
Ethosh works with global life sciences and manufacturing companies and has its offices in North America, Europe and India.
Do you have any queries?
Contact us