Increasing awareness with augmented reality
Published by
Ethosh
on Oct 18, 2021.
An ophthalmology-focused pharmaceutical company wanted to expand its reach and gain the confidence of HCPs and patients. We developed an interactive augmented reality (AR) app for iOS and Android to create greater awareness about glaucoma in order to provide comprehensive patient education and provide timelier diagnoses.
Challenges
Due to their busy schedules, HCPs were not able to dedicate sufficient time to patient education on glaucoma. The resulting lack of awareness about glaucoma among patients was a barrier to timely diagnoses and treatment.
Solution
We gained a solid understanding of the attitudes and preferences of the HCPs and their patients through comprehensive research.

Based on this information, we developed an engaging and interactive AR-based app for doctors to use as a visual aid with patients, making patient education faster and easier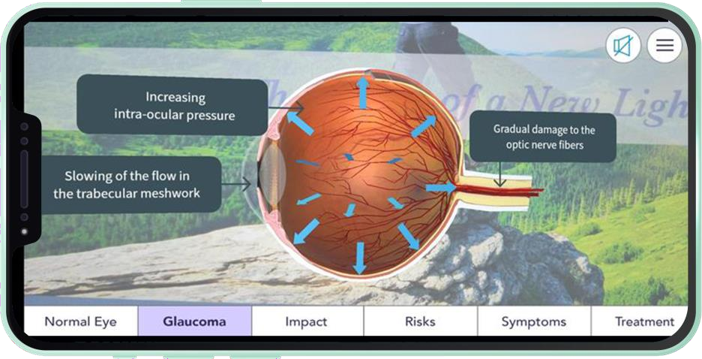 Outcome
Improved awareness
of glaucoma with an engaging educational approach

Increase in early screening
helped to improve treatment outcome and prevent damage

Better brand recall
due to the effectiveness of the AR platform

Ethosh's scope of work
Design Strategy
Conceptualization
Content creation
3D modelling and animations
AR-based approach integrating with infographics
Ethosh blends the real and the virtual to communicate challenging concepts. From life sciences to the products of modern manufacturing. From strategy to execution. We use the latest digital tools and platforms to help you communicate efficiently and effectively: to market, to instruct and to inform.
Ethosh works with global life sciences and manufacturing companies and has its offices in North America, Europe and India.
Do you have any queries?
Contact us