Improving staff's hand hygiene compliance through gamification
Published by
Ethosh
on Oct 18, 2021.
Because bacterial contamination cannot be seen with the naked eye, the hospital's staff members were not strictly adhering to proper hand hygiene practices. The hospital therefore needed a unique training strategy to emphasize the importance of hand hygiene and change the behavior of its staff. A virtual reality-based, gamified learning experience engaged the staff with a visual impression of bacterial cross-contamination in a real-life situation.

Challenges
The hospital hand hygiene compliance rates remained below 50% despite previous attempts at training and auditing methods, causing the hospital to experience increased rates of AMR.
Solution
Our engaging virtual-reality game allowed users to experience and understand the spread of antimicrobial resistance when the correct procedures are not followed.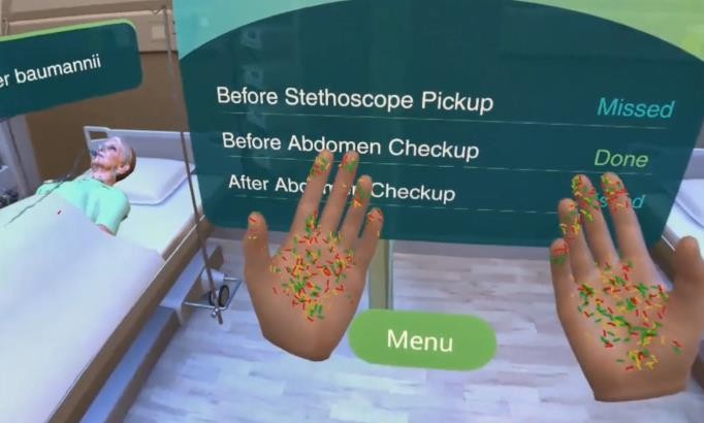 Outcome
Higher retention and recall
of the best hand hygiene practices

Improved learner engagement
With a fun and educational experience
Ethosh's scope of work
Content and scripting
VR User experience design
Programming for evaluation
Usability testing and implementation
Ethosh blends the real and the virtual to communicate challenging concepts. From life sciences to the products of modern manufacturing. From strategy to execution. We use the latest digital tools and platforms to help you communicate efficiently and effectively: to market, to instruct and to inform.
Ethosh works with global life sciences and manufacturing companies and has its offices in North America, Europe and India.
Do you have any queries?
Contact us