Increasing gynecological safety through a product-based VR education
It takes a lot of training and experience to perform complex operations like a cystoscopy. Accidental injuries may occur to the uterus if the practitioner does not have the necessary training and knowledge. A Medical Device Company wanted to raise awareness about cystoscopy among gynecologists and introduce an innovative product that will prevent further accidental injuries while surgery. The marketing team of the medical device company intended to educate practitioners about their product's benefits during surgery in order to increase its acceptance among surgeons.
Challenges
Practitioners today lack confidence in performing complex surgeries. This might be because they might have not received the right training and education. The lack of confidence among practitioners has resulted in them not adopting the medical device company new product leading to decline in sales. Surgeons require access to a platform where they may learn how to use complex equipment and practice doing surgeries on virtual patients before attempting them in real life.
Solution
To enhance engagement and inquisitiveness among gynecologists, we developed a VR-based learning experience to allow them to virtually work through the steps of the procedure in real-time, building confidence in the product and themselves. This allows practitioners to perform the surgical procedure virtually before using the device in their actual practice.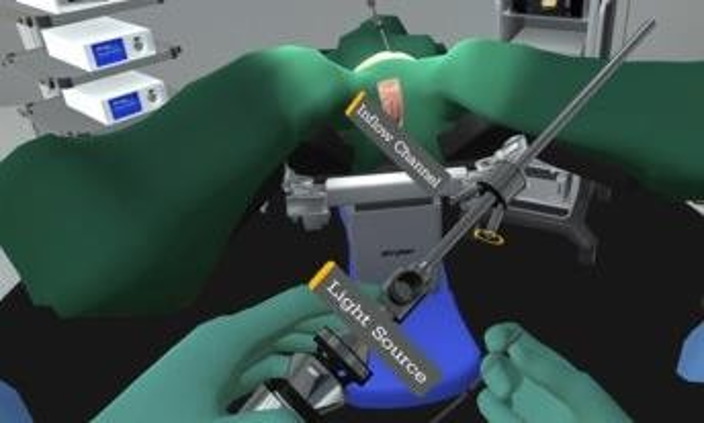 Outcome
Increased Awareness
among Gynecologists about performing complex surgeries
Helping Gynecologists gain knowledge
about the products positive impact on safety hence resulting in widespread adoption of the product
VR based training experiences
have opened doors for safer surgical procedures such as Laparoscopy

Ethosh's scope of work
Content and script development
3D VR design
User experience improvements and instructional design


Ethosh blends the real and the virtual to communicate challenging concepts. From life sciences to the products of modern manufacturing. From strategy to execution. We use the latest digital tools and platforms to help you communicate efficiently and effectively: to market, to instruct and to inform.
Ethosh works with global life sciences and manufacturing companies and has its offices in North America, Europe and India.
Do you have any queries?
Contact us