Improved knowledge and skills through VR simulated maintenance training
Published by
Ethosh
on Feb 6, 2023 .
Transformed complex practical training with an interactive and simulated VR experience to encourage skill development in a defense establishment.

Challenges
A naval academy was facing a challenge in terms of effectual resources for providing practical, simulated training to its engineering cadets on performing maintenance tasks, while on board a naval ship.
Solution
After expansively studying cadet's personas, skills and knowledge along with the practical possibilities of creating real life environment, Ethosh proposed a VR based training for the technical cadets and also designed an intuitive and interactive game-like interface to ensure engagement during learning.

This greatly helped the cadets in understanding and retaining information that was shared during their training sessions.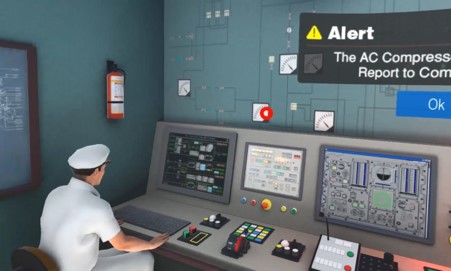 Outcome
Improved ability


to practice repeatedly with ease

No additional cost


and dependency for practicing

Freedom to experiment and fail
run scenarios that are too dangerous or expensive in real environment

Gamification introduced


a fun element and cadet engagement in the learning, enhancing information retention rates.




Ethosh's scope of work
Studying the various cadet personas
Studying the practicalities of creating real-life training environments
Developing VR based training
Designing intuitive and interactive interface


Ethosh blends the real and the virtual to communicate challenging concepts. From life sciences to the products of modern manufacturing. From strategy to execution. We use the latest digital tools and platforms to help you communicate efficiently and effectively: to market, to instruct and to inform.
Ethosh works with global life sciences and manufacturing companies and has its offices in North America, Europe and India.
Do you have any queries?
Contact us