Interactive tool to alter price perception
Assisted a global pharmaceutical company in an HCP awareness campaign about patients' quality of life vs treatment cost by developing a Veeva CLM calculator.
Challenges
A global dermatology major was facing a drop in prescription. Market analysis revealed that HCPs perceived the brand to be expensive as compared to other available brands.
Although the price point was higher, the company's high manufacturing quality standards ensured better product efficacy. The cost burden to the patient was lower than what was perceived on account of reduced recurrence rate and a better quality of life.
Solution
After thorough research of prescription trends for the specialty and the HCP persona, our experts in medical and user experience technology created a Veeva CLM calculator.

This fact-based tool demonstrated the reduction in treatment cost thanks to better patient outcomes and quality of life.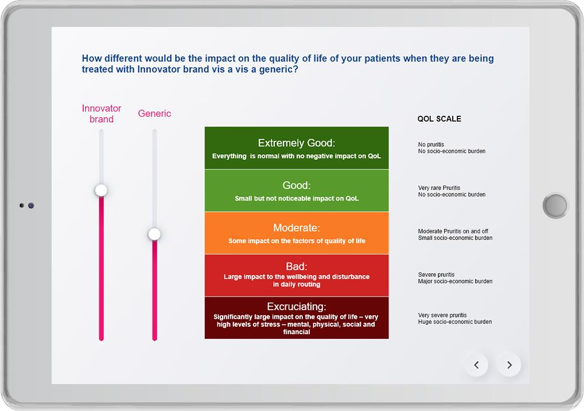 Outcome
Evidence-based interactive tool
brought about a positive change in prescription pattern

Unique interactive experience
boosted brand recall

Better treatment outcome
and higher patient satisfaction helped enhance the HCPs' standing

Ethosh's scope of work
Concept design
Medical literature review and content design
User experience
Logical programming
Ethosh blends the real and the virtual to communicate challenging concepts. From life sciences to the products of modern manufacturing. From strategy to execution. We use the latest digital tools and platforms to help you communicate efficiently and effectively: to market, to instruct and to inform.
Ethosh works with global life sciences and manufacturing companies and has its offices in North America, Europe and India.
Do you have any queries?
Contact us