Digital media planning and buying for a spatial biology company
Published by
Ethosh
on Apr 14, 2022.
Client:

Spatial Biology company

Revenue:

$54.9M

HQ:

USA

Target Geography:

Worldwide

Target Audience:

Researchers in the fields of discovery, translational, and clinical research. This TA prefers to remain current on news in the field of Spatial Genomics or Biotechnology, and thus actively consumes news from reliable sources. Because of Covid, the majority of the TA has shifted to online news/media sites.


Challenges

Choosing the right media outlet and ad spots strategically to achieve the desired visibility. The challenge was to make our client's ad stand out from the other ads and entice the TA to click on the ads and visit the landing page, despite the high level of competition among advertisers.
Campaign Goal
To successfully launch the client's new product and raise awareness, generate leads, and drive user engagements using relevant ad spots with the appropriate media houses.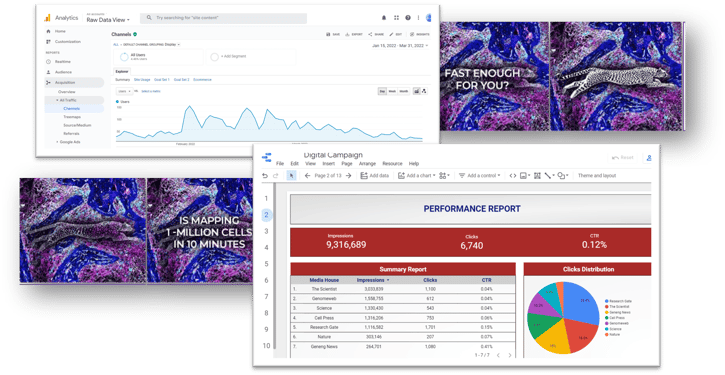 Outcome
Over 10 million impressions acquired

from the 7 different media outlets

Crossed the benchmark CTR of all the publications

throughout the four-month-long campaign

Strategically placed ads on 30+ different ad spots

resulting in gaining best visibility and engagement
Ethosh's scope of work
Conducting research, planning, and coordinating the entire buying process of the appropriate ad spots from the relevant Media Houses.

Creating a content and messaging strategy. Ads are designed in accordance with the strategy. (Ad formats: HTML5, GIF, JPG)

Data gathering, measurement, reporting, and analysis (Tools like Google Analytics and Google Data Studio were used.)
Ethosh blends the real and the virtual to communicate challenging concepts. From life sciences to the products of modern manufacturing. From strategy to execution. We use the latest digital tools and platforms to help you communicate efficiently and effectively: to market, to instruct and to inform.
Ethosh works with global life sciences and manufacturing companies and has its offices in North America, Europe and India.
Do you have any queries?
Contact us