Creating a successful inbound marketing strategy in the Healthcare Sector
Fatebenefratelli
is a healthcare company that operates in the hospital, psychiatric, rehabilitation and residential world with 11 structures located in Northern Italy. Before HubSpot, Fatebenefratelli did not have a homogeneous digital presence and found it difficult to align its various departments. After implementing HubSpot as a centralized CRM, Fatebenefratelli has generated over 350,000 sessions and 4,000 leads in a year. On top of this, During the Coronavirus pandemic, Fatebenefratelli used HubSpot to raise over 2.7 million Euros from 4,000 donors in just two months.
Challenges
Fatebenefratelli PLV did not have a homogeneous digital presence and a unique coordinated identity. The province had 11 websites, one for each organization, with each one operating autonomously without any alignment. There was a total absence of centralized marketing and communication processes as well as a platform to support it.
Solution
Fatebenefratelli sought the help of HubSpot solution partner. With their help, the team at Fatebenefratelli mapped all the digital channels and touchpoints used and created a new centralized website on CMS Hub. Redefining Fatebenefratelli's digital presence also meant planning a lead generation strategy, designing a conversion-oriented website and creating content for each area of interest. There were also several conversion points strategically placed across the site which allowed interested visitors to convert into leads. As all of these contacts were stored in the centralized HubSpot CRM, Fatebenefratelli could then create personalized communications and create a better customer experience for their audience.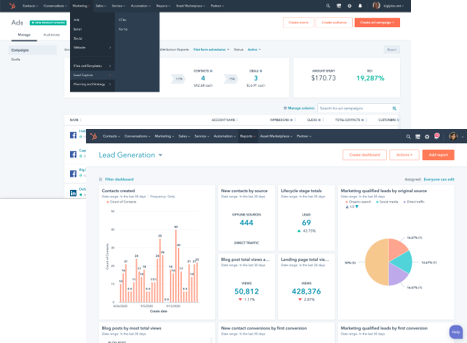 Outcome
100% Increase in Website Traffic +100% Increase in Lead Generated
2.7 Million Euros Raised in 2 Months to Aid Covid-19 Response
Hubspot solution partner assisted in
CMS Hub: Built a website and blog on CMS Hub
Blog: Created blog posts to support their Inbound Marketing and SEO strategy
Flywheel Strategy: Created a community who was willing to help the Province during the Coronavirus emergency;
Landing Pages & Forms: Created TOFU, MOFU, and BOFU Landing Pages in Marketing Hub with forms also hosted in HubSpot.
Lists: Segmented its audience with lists so that it can send personalized communications to their audience.
Workflows: Implemented lead nurturing campaigns via workflows
Email Marketing: Sent email marketing campaigns in Marketing Hub
Social: Shared resources and content across various social networks.
CTA: Implemented CTAs in line with brand identity across strategic points on the website, email and blog posts.
Reports: Reported on monthly and quarterly performance with dashboards.
Browse the Web version: https://www.hubspot.com/case-studies/fatebenefratelli?industry=healthcare
Ethosh blends the real and the virtual to communicate challenging concepts. From life sciences to the products of modern manufacturing. From strategy to execution. We use the latest digital tools and platforms to help you communicate efficiently and effectively: to market, to instruct and to inform.
Ethosh works with global life sciences and manufacturing companies and has its offices in North America, Europe and India.
Subscribe to our blog & newsletter
Share this with one click