How HubSpot helped CancerIQ rapidly adapt and scale its business in the midst of a global pandemic
CancerIQ needed to scale its business quickly but struggled to transfer critical knowledge from the founder to its sales team with separate sales and marketing systems. With Sales Hub Enterprise, CEO Feyi Olopade Ayodele was able to quickly onboard new sales team members and empower them with the knowledge and tools they needed to drive new leads and sales—all in the middle of a global pandemic.
Challenges
Feyi struggled to get her unique "founder knowledge" out of her head and transfer it to her sales team. This kept her stuck in the sales process when she needed to shift focus to her role as CEO. Feyi started to look for an all-in-one solution that could manage both sales and marketing. She wanted a solution that could scale as her company matured instead of implementing a new system every time her needs changed. At the same time, she wanted to do all this without the added expense of bringing in a CRM engineer to set everything up.
Solution
Feyi decided to implement Sales Hub Enterprise. She chose this solution because it's part of HubSpot's CRM Platform, an integrated suite of marketing, sales, and customer service tools.
With this group of products and services, CancerIQ could grow without having to implement and manage a diverse stack of tools and didn't need to bring in a specialist to customize Sales Hub Enterprise to her needs.
In addition, her sales team found the solution intuitive and easy to use.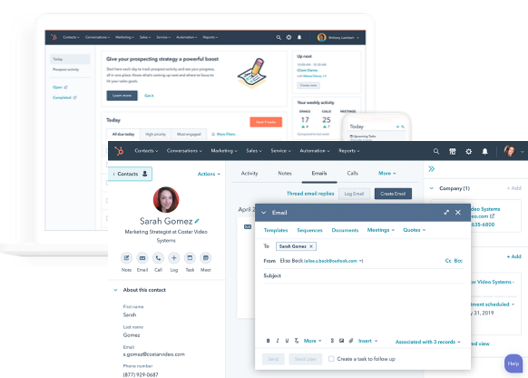 Outcome
Increased sales productivity and Tighter security using SSO
Easier reporting using Dashboards
HubSpot solution partner assisted in
Sequences and tasks

tools:

H

elps

the sales

team organize their daily outreach by prioritizing accounts and contacts while also making the process more

fun.

Playbooks:

It

arms the

CancerIQ

sales team with competitive battle cards, call scripts, positioning guides, and other resources to guide prospects through the buyer's

journey.

Single sign-on (SSO):

With SSO, the

CancerIQ

team only has to log into

HubSpot

once to have the appropriate security settings and controls across all applications.

Field-level

permissions:

It

locks

down specific database properties, ensuring that team members can only view and edit what they should to keep the database clean

.

Reporting and dashboards:

Used to

measure performance and forecast sales activity. The software makes it easy to serve up actionable accounts and identify data-backed trends for decision making.
Browse the Web version: https:: https://www.hubspot.com/case-studies/fatebenefratelli?industry=healthcare
Ethosh blends the real and the virtual to communicate challenging concepts. From life sciences to the products of modern manufacturing. From strategy to execution. We use the latest digital tools and platforms to help you communicate efficiently and effectively: to market, to instruct and to inform.
Ethosh works with global life sciences and manufacturing companies and has its offices in North America, Europe and India.
Subscribe to our blog & newsletter
Share this with one click